History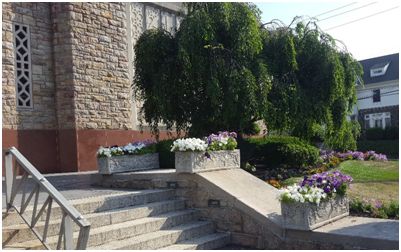 KI began unofficially in 1883 when a group of Allentown Jewish merchants formed the "Young Ladies and Men's Hebrew Society." In 1903 the synagogue was incorporated and fundraising began for the purchase of land and eventual construction of a building.
Women of KI (formerly known as Sisterhood) officially began in 1906. KI affiliated with the Reform movement in 1909 and graduated the first Confirmation class in 1919. By the early 1920s the Hebrew school was flourishing and had expanded to a number of different locations in order to accommodate the enrollment. The first B'Nai Mitzvah class, however, did not take place until 1923 and the first graduates of a high school were not until 1940.
1939 saw the beginning of a Youth Group and 1940 was the founding year for Brotherhood. By the 1950s membership had expanded well beyond the ability of the facility and fundraising began, resulting in a new building at the current location in 1955. It met the needs of the membership until 1988 when there was a significant expansion, resulting in the multi-purpose room, upgrades and renovation to the sanctuary, extra space for the social hall and a number of infrastructure improvements.
In 1994, the congregation adopted the following goals (paraphrased):
Provide worship experiences that create a sense of spiritual fulfillment.
Provide an exciting, stimulating atmosphere for Jewish learning.
Develop congregational programming to meet the diverse needs of our membership.
Develop KI as a caring community where members feel the supportive nature of the congregation.
Develop and maintain an infrastructure that supports effective leadership.
Maximize effective communication.
Maintain financial viability through affordable dues, fundraising, planned giving and cost-containment.
Maintain an attractive facility that continues to serve the needs of the congregation.
2016 marked the beginning of a Capital Campaign earmarked for a new air handling system, a renovation of the Sanctuary and various other physical improvements. Sisterhood rebranded itself in 2018 and became known as Women of KI, proudly affiliated with the Women of Reform Judaism. 2019 marked the beginning of a re-imaging of the Religious School and a change in the Bylaws allowing non-Jewish family members expanded rights and roles in the Synagogue.
KI continues to be known for educational programs, music, social action, community participation, multi-generational family members, interfaith relations and most importantly a welcoming atmosphere of positive change, friendship, and joy. These are the traditions that continue to shape Keneseth Israel today.
Wed, June 7 2023 18 Sivan 5783