Dinner and a Movie
Dinner and Movie programs are very popular, taking place on a Saturday night. The movies are carefully chosen by the Life Long Learning Committee, a facilitator familiar with either the movie or topic is chosen and dinner is coordinated to the theme of the evening.
The evening begins with dinner, catered by Chef Eric Rappaport and his team. The facilitator will then give a brief introduction before we watch the movie – enjoying great homemade popcorn at the same time!
Following the movie, dessert is served while we listen and participate in a discussion led by the facilitator.
Brunch and a Lecture
Participants have a chance to enjoy a great brunch prepared by the KI Brotherhood under the direction of our own Chef Eric Rappaport. It is followed by a lecture, with topics covering a large range of interests. Past topics include discussion of political events, art from the Holocaust, updates on Allentown City projects, politics in the Mid-East and presentations about Jewish communities around the world.
The Sunday morning lectures are free with a delicious breakfast normally offered for $10. RSVPS are appreciated but walk-ins are always welcome. Hope to see you there.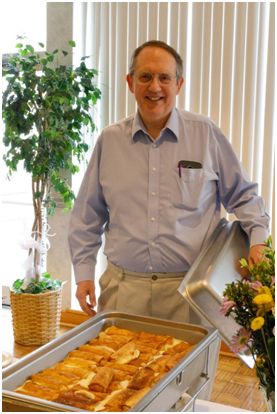 Staged Reading
Periodically, the Adult Ed Committee will put on a Staged Reading, often a subject of dramatic and topical significance.
2020 will see the staging of Irena's Vow, adapted from the Broadway play written by Don Gordon.
Charles Richter, head of the theater department at nearby Muhlenberg College will direct community and college actors in this performance.
A highlight of the evening will be a Question and Answer session from the main subject's daughter, followed by a dessert reception.
The reading takes place February 22nd. Click here for more information and to purchase tickets online.
2018 saw a performance of New Jerusalem: The Excommunication Trial of Baruch de Spinoza, Play by David Ives.
Are you interested in theater productions? The sky is the limit and we would love your help!
Wed, June 7 2023 18 Sivan 5783